6 tips to to handle the fur
Fur…!!
It's like "marmite" ! Some love it, some hate it! but no one remains indifferent !
There is true or fake fur… We are not going to dertermine here wich one is the best, but we will simply give you some tips to sew it.
Those beast skins can be tamed if you follow some technics, quite easy !
1- Your pin, you won't loose
If you have a long hair fur, you can quickly loose your pin and needle into the fur ! And get hit when you wear the jacket !  To avoid it, let's use pins with big colored heads, or even clips, to find them easily.
2- The direction of hairs, you will respect
Obviously the first thing to do while preparing your fabric, is to note the grain line.
It's always true, but even more about fur ! The direction of hairs will show you the grain lines.
3- With a Simple thickness,  you will work
For big thickness, do not fold your fabric into a usually.
It would : create to much gap , and be hard to cut .
Instead, first, you can place the fur on the wrong side (skin or mesh).
Then you place your half pattern on one side, and then you reproduced it symetrically on the other side (like a miror), in order to built the entire pattern.
We can do this on paper, or directly on fabric with chalk.
4- Hairs, you won't cut
The most important point !
DO NOT CUT the hairs of the fur !!!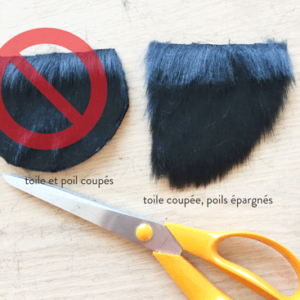 I can hear you saying "how to cut my fair without cuting the hairs?"
In fact, you will cut the mesh (or the skin for real fur) but without touching the hairs.
To do it, you will insert your cisor blade as close as possible from the canvas, and clearing out the hair as you can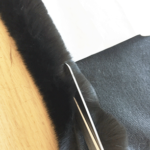 (you will necessarly cut some but the less, the better)
Why ? In order to preserve the naturel aspect of the fleece, and to make the hair hang just right.
If you prefer, you can use a little pair of cisors ( like brodeuse's)
5- Large stiches, you will use
you have traced the pattern, cut the fur : it is now time to sew
For this step, it's quite easy : you will choose a fiting needle : specific for leather for real fur, or adapted to the canvas for fake fur ( jersey,large, thin… depanding on the fabric) .
Good to know : you can tune on wider stich. for instance 3-5 can do the job. This will help to bring out the hairs then.  whereas, a too tight stictch will block out the hairs
6- The fur, you will release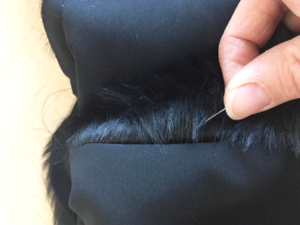 Now take a deep inspiration and learn patience !
Get a needle or any other thin tool (toothpick, big needle, pin…)  : thin but solid !
and we will "release" the fur hairs, incorporated into the seam , in order to make them place properly.
Moreover, it will "erase" a bit the seam by hidding it under the fur.
(it' not obvious on this picture but you will see it will doing it !)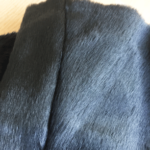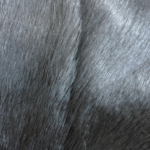 Last but not least, for your first times with fur, choose pattern  made for:  simple, without pleat or dart. For instance Goya pattern is perfect for that , a lovely sherperd liked jacket without sleeve, designed to be sewn in fur.
Voilà!  You are ready to sew perfectly fur !!
And.. the last advice… Don't forget to efficiently  vacume at the end.
Yes, fur is made with hairs, and you will know it 😉